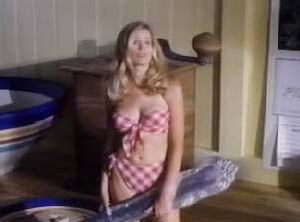 Nurse Ginger is a fictional character who appeared in the 1992 Full Moon Features science-fiction movie
Bad Channels
, as well as
Dollman vs. Demonic Toys
.
Bad Channels
Dollman vs. Demonic Toys
At the start of the film Brick Bardo, an eleven inch alien from the film Dollman, hitchhiking to get to the town of Pahoota. He traveling to find an eleven inch girl named Nurse Ginger to prove to her that she's not alone.
Brick continues to call the police and tells them that Judith Grey died in the line of duty, and leaves, with Nurse Ginger in a cab that's on its way back to Pahoota. Nurse Ginger was portrayed by actress Melissa Behr in both her appearances.